Update Summary
We're releasing two separate updates over the next month. Our first update includes:
Updates to how Stripe Terminal works
Introducing floor plans in studios so you can see who is in an event visually (in addition to the existing list view)
Our second update includes:
An updated integration at checkout including support for Apple and Google Pay along with other Stripe Elements payment methods like Klarna and ClearPay
First Update
These updates have started to be released to your platform and the majority of clients will see the first update by the last week of October 2022.
Stripe Terminal Improvements
We've listened to feedback about how Stripe Terminal integrates and have made improvements both in how fast it works while also allowing you to have a user/computer remain connected to the Terminal so each time you run a transaction and select Terminal, CodexFit remembers the last Terminal you connected to and automatically connects you again.
We now ask anyone who logs into the backend to select a location. This ensures a location is always fixed when someone logs into CodexFit. Once you have a location selected, we remember that and automatically look for Terminals associated with that location. Once you select a Terminal, your user/computer will stay connected to that to speed up checkouts.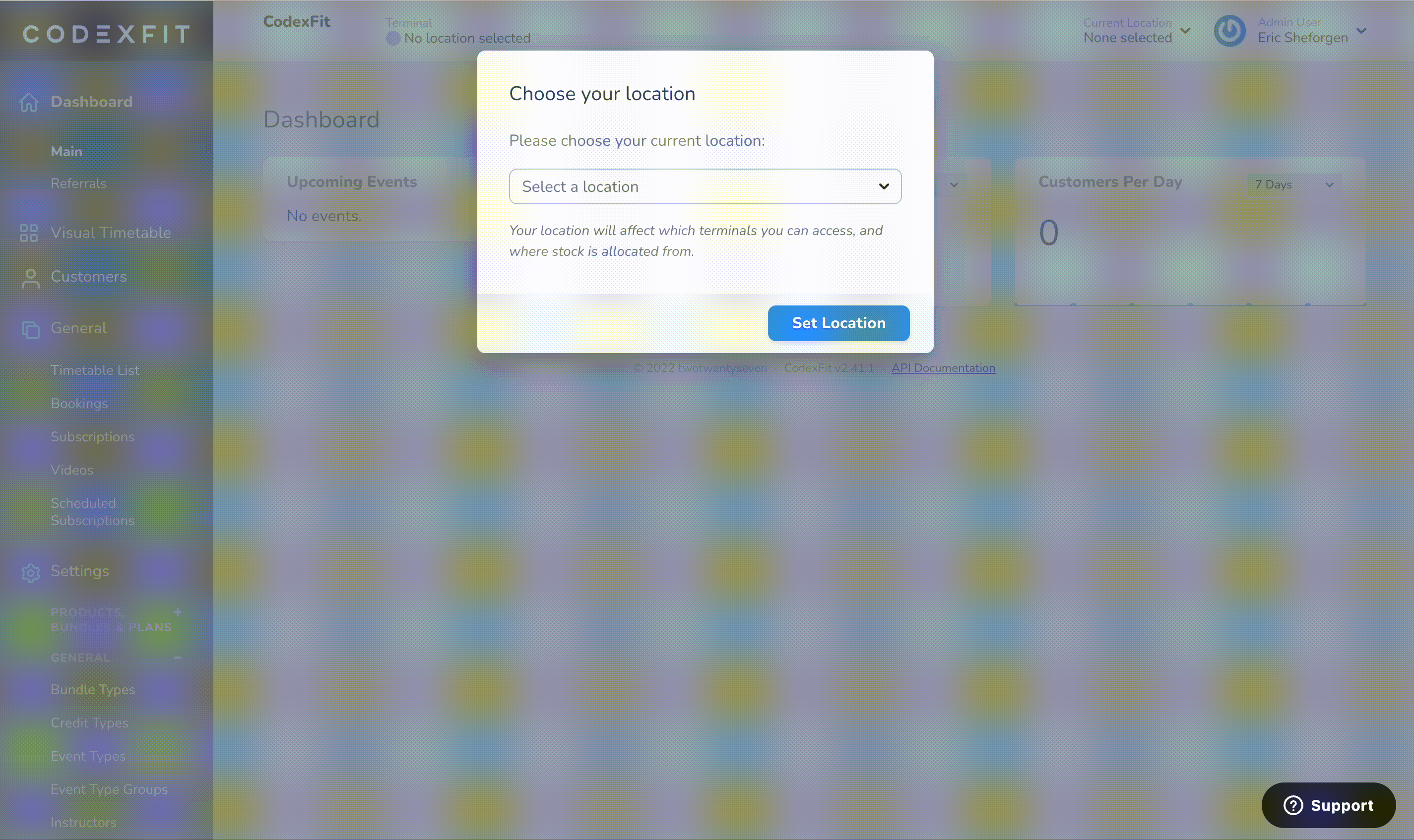 Additionally, quick buy now also works with Terminal! So while your team check customers into events, you can select Stripe Terminal from the dropdown and select to use the Terminal to quickly process a transaction either via a physical card or Apple or Google Pay.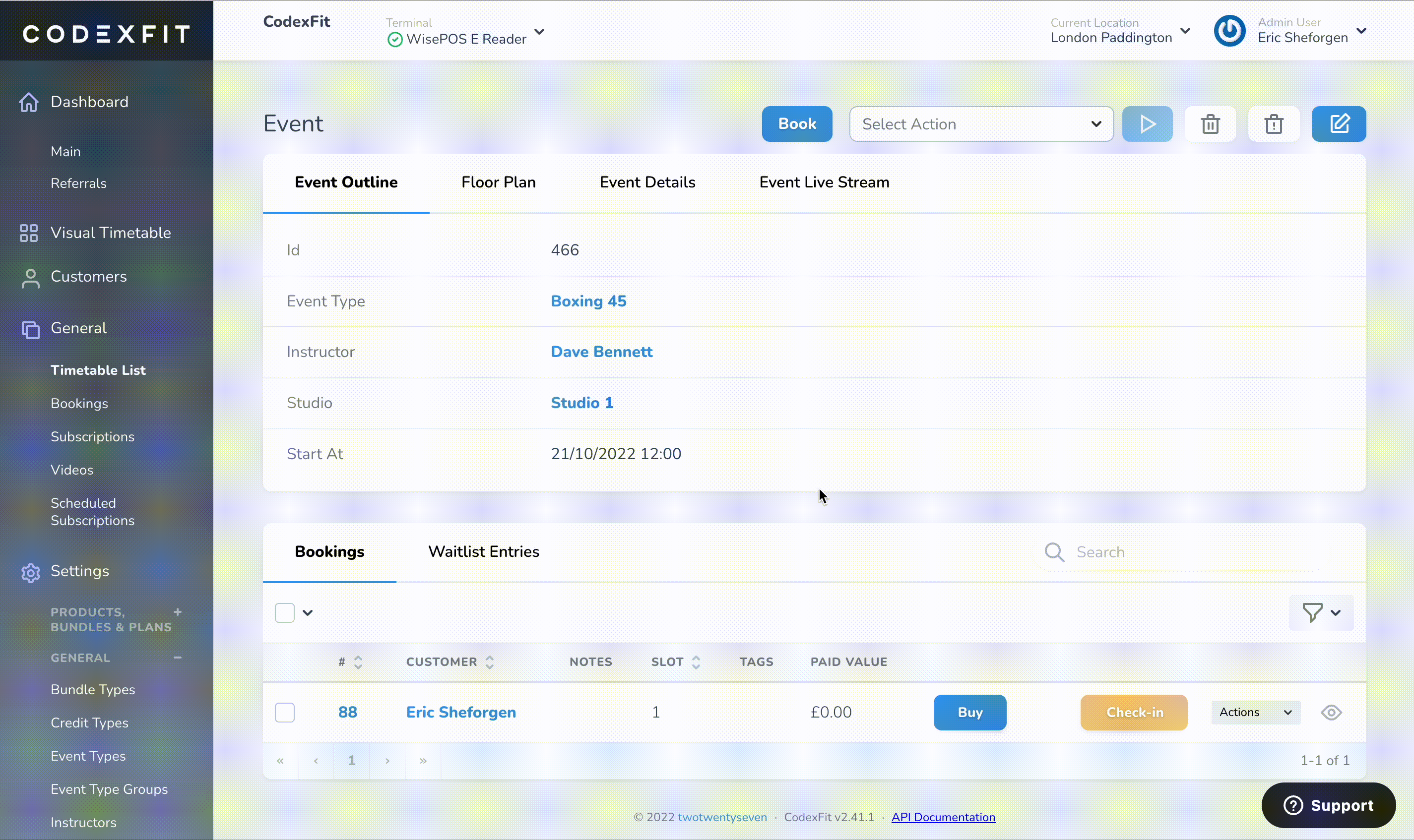 Floor Plans
If you use studio layouts, you can now display the floor plan to see customer's name overlaid where they are in the studio. You can also toggle to view full names.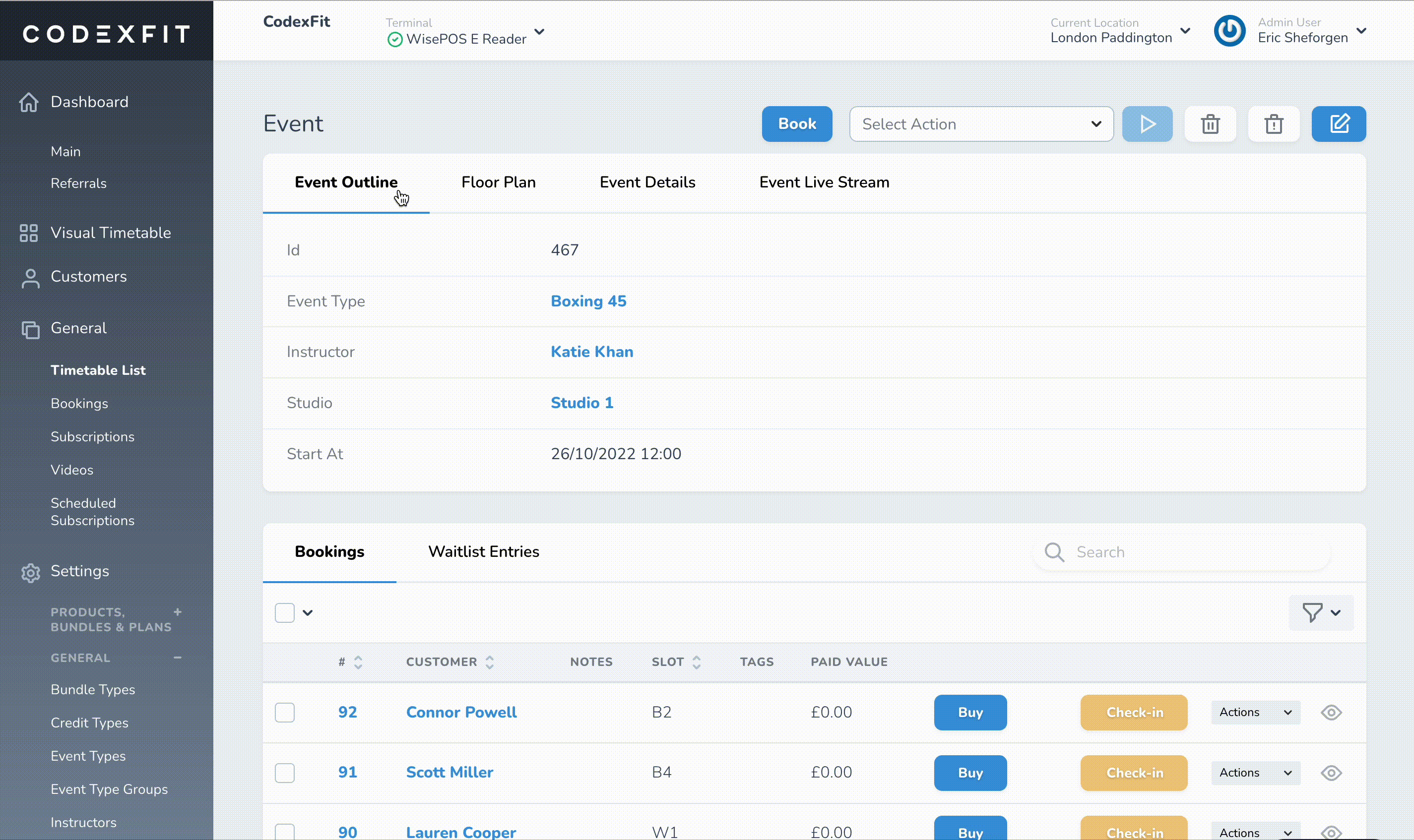 Second Update: Updated Checkout with Apple and Google Pay
This update will see CodexFit introducing a newly improved checkout that improves handling of 2nd factor authentication (moving more of the processing of these to the server) but even more exciting is the introduction of Apple and Google Pay in addition to other payment methods that integrate with Stripe like Klarna and Clear Pay.
Furthermore, customers can also now store or use more than one credit/debit card on their account. One card will always need to be set to default and the default card on the account will always be the card that is charged if a customer has an active subscription on their account.
There will be additional steps you may need to take within your Stripe account ahead of this release but we will work with you to help make these changes.
You can expect to first see the new cart/checkout on a staging them of your site. After you have reviewed it, we will then work with you to get the updated flow live.
Our team will reach out to each client individually over the next 2-3 weeks to outline the plan to release this to your site. The new cart and checkout will look somewhat different but twotwentyseven will apply fonts and colours to help the cart and checkout fit in as best as possible with your site.
We're excited to finally be making this available and think it will streamline checkout building on the ecommerce like experience we're aiming to achieve making checkouts as fast as possible.